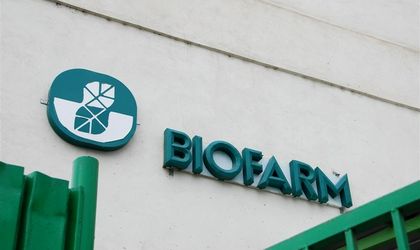 Romanian pharmaceutical producer Biofarm will buy back up to 10 percent of its own shares by public offering, at a price of RON 0.305/share, thus, the value of the offering might reach RON 33.3 million.
The submitted price is 8.5 percent higher than the RON 0.281/share trading price on Wednesday. Biofarm stock grew by 6.2 percent as a result of the announcement.
At the trading session's closing on Wednesday, Biofarm had a share capital of RON 307.6 million (EUR 69.7 million).
Swiss Capital will act as intermediary and the public offering will take place over a period of 15 working days, between August 26 and September 15, according to a document send by the company to the Bucharest Stock Exchange on Thursday.
Biofarm shareholder structure
SIF Muntenia (SIF4) – 51.7 percent of shares
SIF Banat Crisana (SIF1) – 21.3 percent
SID Moldova – 13.8 percent
Biofarm announced last week it sales increased 4.7 percent in the first semester, to RON 61.1 million (EUR 13.7 million). Moreover, its net profit rose 8.9 percent on the year to RON 14.74 million (EUR 3.3 million) in the first half, on higher sales.