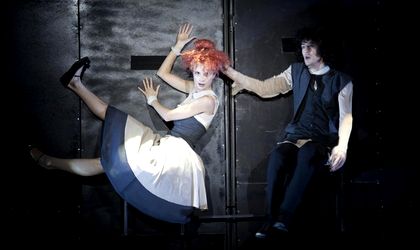 The play "A Midsummer Night's Dream", by Georgian director David Doiashvili, is scheduled to open the 2015 NETA Theatre Festival on August 28, informs the National Theatre of Bucharest (TNB).
Considered to be one of the most innovative staging of Shakespeare, the play form the State Theatre in Tbilisi was awarded the 2013Duruji  gala grand prize of Georgia and won three other awards, for best director – David Doiashvili, best actress – Ana Aleksishvili (Helena) and best actor – Archil Sologashvili (Philostrat and Puck).
Georgian critics praised it as expending beyond classical patterns, saying that no other version of this play reveals so many connections between mystical characters and hidden ideas in the work of Williams Shakespeare. The actors' interpretations, the sets, light design, video projections and animations team, but also Chopin's music create an atmosphere of romance and dream which, combined with the horrifying nightmare, impresses audiences of all nations and faiths worldwide, TNB shows.
Doiashvili has directed another play by Shakespeare which was highly awarded in 2010, when he received nine prizes and 12 nominations for "Macbeth" at the Rijeka International Theatre Festival in Croatia.
Born in 1971, the Georgian director has attracted international attention early in his career. After graduation he was invited to Great Britain to stage "The Crucible" at the West Yorkshire Playhouse. At the same time, the Royal National Theatre scene in London held his first show of "A Midsummer Night's Dream" by William Shakespeare.
Another successful Shakespeare text adaptation was "King Lear" in 1995. Together with "A Midsummer Night's Dream" among the most popular of Doiashvili's stagings are "Cyrano de Bergerac" by Edmond Rostand, "Siege" by Albert Camus, "House on the Border" by Slawomir Mrozek, and "Separation" by Giorgi Eristavi.
The 2015NETA International Theatre Festival will be held at the National Theatre in Bucharest from 28 August to 4 September.
Natalia Martian