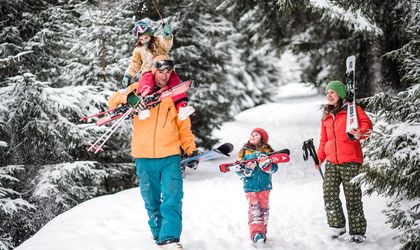 Last minute holidays are the best chance for those who have not prepared for Christmas and New Year's Eve to spend some good times with friends or family. And it doesn't have to be expensive, since there are low-budget alternatives in neighboring countries.
Momondo.ro made a list of the 9 best destinations for mountain resorts that have affordable prices for food, hotels, skiing permits and equipment, all of them in Eastern Europe.
Poiana Brasov, Romania
For the resort in the heart of Transylvania, tourists from various corners of the world are starting to struggle to get a room. In addition, just a few steps away from the slope, you can find the mulled wine that warms you up to the bones and sparks the appetite for traditional dishes, such as polenta with cheese and eggs.
Kopaonik, Serbia
The 200 sunny days a year brought Kopaonik Mountain the pseudonym of the "Mountain of the Sun". The resort with the same name looks like a wonderful and peaceful winter land with 70 km of slopes. It is also the largest mountain range in Serbia. For children, there is a special ski center equipped with all that is needed, including a conveyor belt and carousel.
Those with higher energy levels at night can replace beverages in the moonlight with artificial light skiing in Malo Lake. The cable car in Kopaonik is heated, with a capacity of six people. For those who do not want to give up on traditional evenings, there are numerous local bars and restaurants, many with Serbian folk music.
Spindleruv Mlyn, Czech Republic
Nestled on one of the snowy peaks of the largest mountain range in the Czech Republic, Krkonoše ("The Giant Mountains"), lies Spindleruv Mlyn, one of the four resorts in the country. Not only are the prices here affordable, but seasonal wonders are expected: from children's slopes, almost virgin spaces to practice cross-country skiing and snow-packed parks, to the surroundings of the National Park, so beautiful that it was classified by UNESCO as a Biosphere Reserve.
On your trip here, you come down to the snow-covered village, where the smell of roasted steaks and pancakes is so present, and for a more eccentric experience, the Novosad Brewery offers at least some unusual spa treatment: bathing in beer.
Jahorina, Bosnia and Herzegovina
Jahorina, along with its snow-covered peaks, is opened year-round for skiing slopes. Each centimeter of the slopes is very well maintained, and the Bosnian Alps surround the place. At the bottom of the mountain, you will find a small and charming town, loaded with traditional cottages and sprinkled every step of the way with snowy trees.
Just a stone's throw away from Sarajevo, this Balkan destination is even more recognizable for the so-called "après-party," parties that make their debut after the slope is forgotten. In addition, you can find superb nature in Jahorina, where the connoisseurs go hiking or sledding..
Bialka Tatrzanska, Poland
If you're a skier, you've probably heard that Zakopane is the largest and most famous resort in Poland. But if you want to go to a destination that does not leave you with an empty wallet and is not full of people, the village of Bialka Tatrzanska is an alternative. The three long and parallel slopes are ideal for families, beginners and intermediaries who can perfect their skills.
For travelers with culinary appetite, the bigger temptation might be around the smoked sheep's cheese and cranberry mix, and if you have some tea with rum next, you are likely to feel like you are having the time of your life. Nightlife is not exactly the strong point of this resort, but if you take into account that there is an outdoor swimming pool filled with geothermal waters, there is a great chance you'll find a way to enjoy your evenings.
Jasna, Slovakia
Jasna is one of Slovakia's most precious and well-preserved secrets, a nesting place in the Demanovska Dolina Valley. Wind flows between pine rows and ski slopes face the wilderness and rural scenery, all of which occupy the vastness of a national park.
The Chopok Peak tempts professionals with an almost vertical 1000-meter slope, lighted up at night, and countless areas where they can play with their snowboard. But there is also a place for beginners: there are ski schools and you can even practice winter sports in the wildlife area by turning to a local guide. Even here the parties are not exactly at home, but there are local berries and traditional porridge dumplings.
Bansko, Bulgaria
This newly modernized resort a top destination of snow lovers. And it has everything for everyone: snow, ski facilities that you cannot complain about and nights that will give you more than a cup of cocoa near the fire. At the same time, Bansko is friendly for beginners, even if it has steep slopes too. The red markings work here, and the jogging down the slope is another source of adrenaline.
Bulgaria's largest winter resort can sometimes become somewhat crowded at the cable car tail, but you can always go to bed, rest, and have breakfast before you put your skis on. Finally, the Bansko bar scene where you can go at night is already famous.
Kranjska Gora, Slovenia
If this Slovenian resort missed the dangerous slopes, it was full of sober, well-groomed landscapes, good children's scenes, and incredible landscapes amidst the background skis. And despite participating in world cups for over 50 years, prices are as decent as can be. That makes you do not have to be a celebrity to feel welcome on the slopes here.
Popova Sapka, Macedonia
Popova Sapka resort is without question better than most Eastern Europe resorts, nested somewhere between the gentle peaks of the Dinaric Mountains. And you will find a very quiet town, clothed in white and with empty streets, in a state of perpetual relaxation, perfect if you are looking for silence in the winter holidays.
If you want to immerse yourself in the wilderness of an immaculate white, in Popova Sapka you can rent a plow (with a driver) to drive you up to the snow covered slopes of the place. This fun with the plow is the first and only one so far organized in Europe.