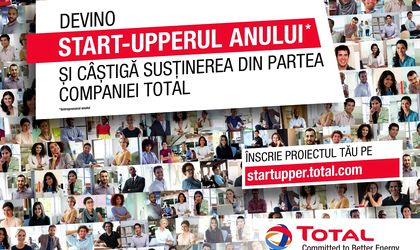 Synthetic oil producer Total Romania, part of Total Group, the fourth largest oil company in the world, has launched the Startupper of the Year Challenge. The project will be carried out in 60 countries including Romania and will support and reward young local entrepreneurs in any business less than two years old.
This is the second Startupper of the Year Challenge. The first edition was held in 2015 in more than 30 African countries.
"Among the winners of the last Challenge there was an app that taught pregnant women what to do and when to do it, a guide throughout their pregnancy," says Marco Pannunzio, managing director at Total Romania.
The 2018-2019 Startupper of the Year by Total Challenge will support and reward young local entrepreneurs in any business sector with a project or business less than two years old. In each participating country, a local jury comprised of experts from Total, specialists from incubators and accelerators, business leaders and local community stakeholders will select three winners.
The projects will be assessed based on their:
Innovative nature.
Social and community impact.
Feasibility and development potential.
The winners will be awarded the "Startupper of the Year by Total" labels and receive financial support of EUR 25,000 in total, plus professional coaching and extensive publicity to advertise their project.
To support women entrepreneurs, the jury will also designate a Top Female Entrepreneur in each country. This special award, which comes in addition to the other awards, is Total's way of encouraging more women to take part in the Challenge. A grand jury will meet subsequently to select six overall Grand Winners from among the first-prize winners in each country.
More than just a business challenge, the 2018-2019 Startupper of the Year by Total Challenge also reaffirms Total's commitment to capacity building in the countries where it operates, worldwide. By helping innovative young entrepreneurs realize their projects, the Challenge strengthens the local social fabric. Registration opens on October 9 at http://startupper.total.com/. Candidates will have until November 13 to submit their applications.
Total Romania
Total Romania was founded in 2005 as an economic partnership between the companies Total (France) and Lustic (Romania). Today, the Bucharest-based company owns a factory in Cristian, Brasov County, a bitumen deposit in Ozun, Covasna, and covers complex areas of activity: production of lubricants, distribution and sale of lubricants and special fluids, storage, distribution and sale of bitumen.
Oriented to be a reference on the local market and equally committed to providing better energy, Total Romania has a full range of personalized services and advanced solutions, targeting to a wide range of industries: cars and motorcycles, agriculture, transport, public works, industry, shipping, aeronautics.
The company has an yearly production capacity of 30,000 tons of lubricants of which it export half in the neighboring countries. Total have invested in Romania, over the years, around RON 100 million. The turnover last year was RON 344 million and in the first half of 2018 was RON 195 million.