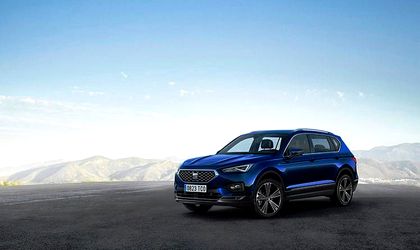 Seat launched its new SUV, named Tarraco, designed in Spain and produced in Germany. The SUV will hit the markets in the first part of 2019.
The new Tarraco is positioned at the top of the Seat SUV family, being the "big brother" of the Ateca and Arona models.
"Seat is going through the biggest product offensive in its recent history. The launch of the Tarraco, our first high-end SUV, is part of the EUR 3.3 billion we invest between 2015 and 2019 in the future of the company and the range of vehicles we offer, "said SEAT President Luca de Meo.
Two versions of petrol engines will be available: a 150 PS 1.5 TSI four-cylinder engine with a six-speed manual transmission and front-wheel drive, as well as a 2.0-liter 190 hp automatic transmission The seven-speed DSG and 4Drive all-wheel drive.
There are also available two diesel engines, both 2.0 TDI, available with 150 hp and 190 hp. The 150-hp version can be combined with either front-wheel drive or all-wheel-drive, six-speed manual transmission, or seven-speed DSG and 4Drive all-wheel drive. The stronger version is offered exclusively with 4Drive traction and the seven-speed automatic transmission DSG.