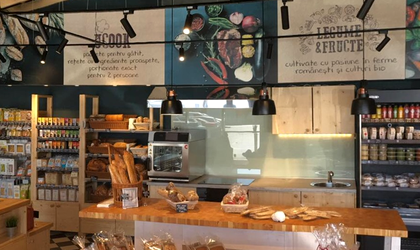 Real Foods announces the opening of its second organic and gourmet food store in Pipera Plaza, Bucharest. With a total area of ​​120 sqm and a range of over 1,000 listed products, the second brick & mortar store opened by Real Foods in the capital involved an investment of over RON 300,000.
As a novelty, the Pipera Plaza store also includes a hot lunch products area.
"After a three-year online store experience and an encouraging development, the opening of the second offline Real Foods store comes as a confirmation of the move to a new phase of business development. Most of our customers have told us that they would like a physical place to get in touch with the food they buy. Our stores are specially designed to highlight the products we select and consumers can test them and also find out more about the producers, the original recipes used, etc. Our offline shops were also a good opportunity to develop the ready-to-eat 2 Chefs line, where we already have around 50-60 assortments," said Mircea Draja, one of the founders of Real Foods.
Launched as an entrepreneurial online business in 2016, Real Foods has capitalized on the concept of proximity in the supply of natural foods, certified organic and gourmet products with very strict quality standards, from local and small local producers concerned with product quality and distributing them to customers interested in the origin and taste of the products they consume.
At the beginning of 2017, Real Foods launched the UCook concept to deliver to those interested and concerned about what they eat, new recipes in a turnkey box with all the ingredients, ready to be sliced ​​and a recipe explaining step by step how to cook snacks, lunch or dinner in 30-40 minutes.
In 2018, Real Food's business expanded with the opening of the first two offline stores in the capital. The Real Foods team seeks and selects products based on taste and quality from small and medium-sized entrepreneurs in the country and some organic products from foreign partners, respecting the same selection criteria. The food categories in Real Foods range from sourdough bread, farm eggs, dairy products and traditional meat specialties, pork, farmed chickens, vegetables and fruits from local organic producers, crafts, honey and herbs.
"The good results from our first physical stores encourage us to believe that there is a growing market segment and we want to bring our natural, organic and gourmet products together from small producers in all regions. We have started this process somewhat backwards, because initially we focused on online, and now we're expanding into brick-and-mortar, which brings new online and offline customers. As far as financial performance is concerned, we hope to reach a turnover of 1 million euros next year with the two stores and online. As for the expansion plans, we believe that in the long term this concept can become a chain with national coverage, but at the same time, wherever we open up, we want to preserve the specificity of the products," said Mircea Draja.