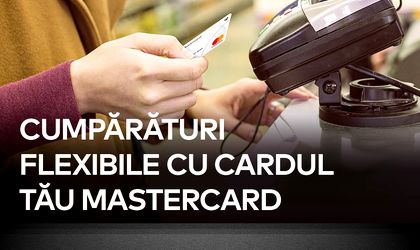 Mastercard, technology company in the industry of global payments, and Carrefour Romania, one of the biggest players in the retail market in the country, have launched, for the first time in the food retail area, the Mastercard – Plata in Rate (Payment in Instalments) service.
By Romanita Oprea
The service offers Mastercard card holders from the banks enrolled in the program the option to pay for their products in instalments, directly through the POS, in a large number of locations in the country, no matter the bank the particular store is working with. The users benefit from the extended shopping capacity, the flexibility regarding the payment method, but also better spending and financing control.
Starting in October, Carrefour customers can pay in instalments for the products bought with the Mastercard cards enrolled in the service. At the checkout, after inserting the PIN code, the terminal will show the available options for the payment in instalments, depending on the card configuration.
"The impact among consumers is significant, especially in the projects that stimulated the card payment of the contactless one and we are happy to be able to scale this positive effect by launching the program Mastercard – Plata in Rate. We concentrate our efforts on the quality of services we provide for our clients and on innovation, offering multiple payments instruments for a better shopping experience, putting at their disposal the latest generation technologies in retail. For example, we have already introduced Self Check-out in over 15 units,  hypermarkets and supermarkets, the clients having the possibility to scan and pay themselves the products," explained Alexandra Pescaru, Services Sector Manager, Carrefour Romania.