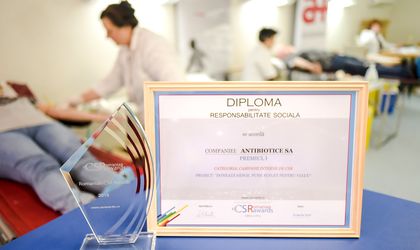 Pharmaceuticals producer Antibiotice Iasi received two awards at the Romanian CSR Awards 2019 Gala: first place and the award for the Internal CSR Campaigns category for their blood donation project and a notable mention in the Employee Support category for the first aid course for the company's employees.
The event was organised by CSR Media on April 10 in Bucharest and recognised the best corporate social responsibility projects carried out by Romanian companies in 2018. 176 projects were submitted by 100 companies in the competition.
Antibiotice's blood donation project has become a tradition for the company and has been carried out periodically since 2010. The most recent edition (16th) took place one day after the awards gala, on April 11. The project enjoys the active and voluntary involvement of employees and was initiated in response to the blood deficit in hospitals in the Moldova area. The initiative promotes civic spirit in the community regarding the need for blood donations. In the 8 years since the campaign started, 800 donations were made and over 2,400 lives were saved, the company writes in a statement.
The second project that brought an award for the company, in which 100 employees received first aid training, was started in 2018 in the context of the World Heart Attack Prevention Day. The course was delivered with the help of the SMURD Iasi service and will continue in 2019 to train more of Antibiotice's employees.
"Winning the two awards honours and motivates us and makes us more responsible. The CSR projects we carry out on four main areas – healthcare, education, social and environmental – are meant to bring added value and constantly contribute to the community's development. As we are responsible and friendly towards the communities we are a part of, we make sure that we can build a better future together both for ourselves and those around us, and contribute to improved health and better environmental protection," said Ioana Tode, the president of the Antibiotice Science and Heart Foundation.