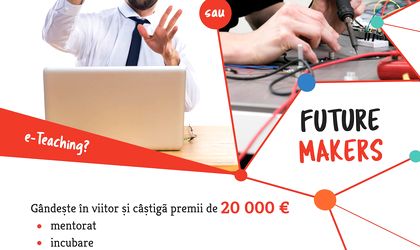 Entrepreneurship program Future Makers, designed for young people aged 20-29 who want to learn how to start a business, is nearing its deadline. Applications can be submitted by May 20, on the www.futuremakers.ro website.  The program kicked off on February 8 in Bucharest.
Over the past two months, around 1,000 young people have participated in events and entrepreneurship workshops held in over 15 cities across Romania. Young people have learned that "starting today tomorrow's ideas" is not a metaphor, but a reality.
The world population is growing, technological progress is very fast, we are experiencing unprecedented climate change, resources are exhausted, and all these challenges require innovative solutions. Young people all over the country have a few weeks left to apply for a competition of entrepreneurial ideas, to enter the incubation and mentoring program and to win the prize money of EUR 20,000.
The Future Makers jury includes: Wadia Ait Hamza (World Economic Forum), Nicoleta Eftimiu (Coca Cola Romania), Mihai Toader Pasti (EFdeN, General Manager & Co-Founder), Sergiu Negut (Maastricht School of Management Romania, Associate Dean of Entrepreneurial Growth, Irina Anghel Enescu (South Eastern European Private Equity and Venture Capital Association), Ioan Iacob (Qualitance, Founder and CEO), Sorina Campean (Entrepreneurship Center Said Business School, University of Oxford Networks and Partnerships Manager, Florin Cobuz (Managing Partner), Carmen Oprea (Socital, Co-Founder & COO), Radu Manolescu (KMTrust & Partners, Founder & Managing Partner).
"We're talking about ideas about the future, but it's not just new technology ideas, and it's important that young people do not get scared and say:" I'm not an engineer, a researcher, I'm not Elon Musk, it's not for me."On the contrary, it for all of us" Oana Toiu, Curator Global Shapers Bucharest Hub said.
Ideas must be concrete solutions to the challenges that the future prepares us for. Whether we are talking about the future of agriculture, medicine, tourism, commerce or other areas, business ideas need to be realistic and have an impact.
For 50 selected ideas, during the summer, the program will connect teams with entrepreneurs in their fields of interest as well as with mentors and esources from the international network. At the end of the incubator, the teams will have pitches in front of the jury. The prizes are worth EUR 20,000 and aim to turn good ideas into tomorrow's sustainable organizations.
"From May to the Autumn we will work with these ideas, that is, those selected will have access to finance courses – how do you make your budget, how you calculate your profit, how you calculate what you reinvest, how you calculate the price of your products correctly, – what are the various legal forms, which means contracts with the suppliers, as well as human resources courses – how do I make a team, how do I motivate it, how do I assure that we all work for the purpose that we set for ourselves, how do people how to measure people's performance, or how to work with collaborators.", Oana Toiu, Curator Global Shapers Bucharest Hub said.
The program is funded by the Coca-Cola Foundation and is organized by Global Shapers Bucharest Hub, an initiative of the World Economic Forum, part of an international network of 300 cities and Social Innovation Solutions, a support organization for innovation and social entrepreneurship.