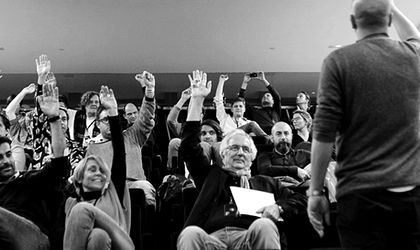 Sabina-Popa, art director at McCann Worldwide Romania and Teo Stefan, copywriter at McCann Worldwide Romania, were selected to represent Romania at The Greatness Challenge, part of the ADCE Awards 2017. 
The Greatness Challenge represents an opportunity for the young professionals to be part of an international ADC*E Awards Jury. This unique educational experience allows them to be introduced into the selection processes applied by the Jury's senior members and to find out their evaluation criteria. Moreover, Sabina and Teo will have unlimited access to ADCE Festival that will take place between November 9-11, in Barcelona.
The selection comes following an internal ADC Romania competition that had as brief the creation of a crowdfunding campaign that will finance their festival participation.
"Ever since the moment I've received the e-mail that we are the lucky winners of the local competition and we will be leaving to Barcelona, we are in ecstasy. And not only that we will take part in the ADCE festival as a Young Juries' capacity and we will have the occasion to see tens of very beautiful campaigns, but also because we are glad that the chosen idea is the one we are believing in the most. The idea that we want to raise and transform in a first bank of 100% Romanian images. At the moment, on Simupack.ro we have the most used mock-ups in the media spaces in Bucharest, but we will keep on updating with all kinds of local pictures, from portraits of Romanians to situations that are typically Romanian (such as May 1 barbecue in a family in Titan)," said Sabina-Popa, art director McCann Worldwide Romania.
The campaign developed by Sabina and Teo is SIMUPACK, the first Romanian mock-ups bank where each creative can choose images at big resolutions, just perfect to be used for the simulations that will sell their next campaign to the client.
Romanita Oprea