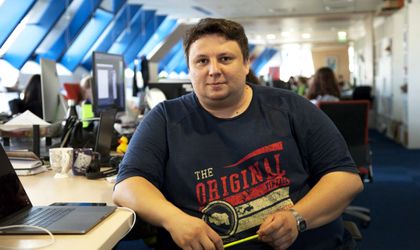 Alex Budin is the new Head of Technology at MRM//McCann Romania. Alex has 8 years of experience in Advertising, 20 years in Software and Technology and 7 years in Electronics and Robotics.
By Romanita Oprea
His past 8 years were spent in London where he had a number of roles: Senior Software Engineer (MMT Digital), Lead Software Engineer and Creative Technologist (Cheil London) and Head of Technology at CP+B (Crispin Porter and Bogusky).
He developed digital activations for brands such as Samsung, KFC, BBC, O2, Pearson, Coca-Cola, Subway, Absolut Vodka, INFINITI, PayPal, Hotels.com and many others. Alex has won an award at Cannes, in one of the most difficult categories – Innovation – with his Samsung NX Rover project.
"In Romania there is a mindset that you can't 'make it big' unless you leave the country. We don't agree with this. We want to prove the fact that you can conquer the world from here as well. Our ambition has been to build an agency that would grow talents who could compete easily anywhere in the world, maintaining at the same time our status as a destination for talents from outside the country who are searching for new opportunities. And here I am talking about Romanians who are looking for a way to return home, as well as foreigners who are looking for opportunities in Romania. This is the only way we can evolve and overcome our limits as an agency to compete with anyone in the world," he said.
"Alex has a great background at one of the world's most prestigious agencies in the world. We are lucky to have him and together with the extraordinary team at MRM//McCann, he will help us push the limits for our clients," said Catalin Dobre, Chief Creative Officer McCann Romania and Regional Creative Director at McCann CEE.
On his decision to return back home and join the team at MRM//McCann Romania, Alex said:
"There are certain advantages when coming from London to Bucharest and working in the same field. You get the feeling that you've seen a bit of the future and have the possibility to put into practice all that you have seen and learned there. I decided to return because I see great opportunities to create something valuable here, the market is continuously growing and developing, it does not show any signs of slowing down, all that's left for us to adapt and start producing results. The secret consists of pushing technology's limits for our clients, at the same time keeping up to date with everything that is happening and developing, creating prototypes and experimenting, this is the only way to prove Romania's worth on the global map of creativity. Things at MRM take place faster than I expected. Together with Ionela, Catalin and Simona I think we have a great chance of growing and being much BOLDER than before!''
"Integrating technology and innovation in projects for clients is a familiar practice for us at MRM. We have launched the first Twitter campaign in 2013 (Live Tweet for Coca-Cola), developed European projects that had innovative elements and worked with prototyping (ROMbot and StudyCoin) over the years. My colleagues from the Creative team have the mindset of always searching and connecting to new trends and technologies, Alex's arrival in the agency will be of great help to them, because he will help them understand and use technology better. Alex is the person who will teach (as a result of his experience in agencies such as CP+B and Cheil) how to work in mixt teams, how to connect ideas with technologies, how to structure and implement future campaigns. His joining the team is a natural step for the agency and a great opportunity for us to develop more prototypes in the future," added Ionela Buta, Deputy CEO MRM//McCann Romania.