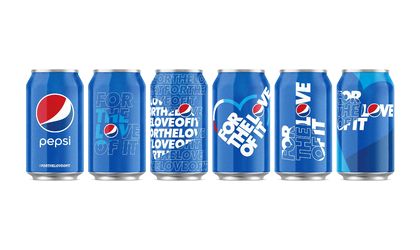 Pepsi® has introduced a new marketing platform and a new headline around the brand: FOR THE LOVE OF IT™.  Throughout the year, in over 100 countries around the globe, new personalized content will be launched under the For the love of it headline to address today's generation.
By Romanita Oprea
"We are confidently celebrating who we are – a legendary brand, rooted in entertainment, that offers a refreshing drink, loved by people all over the world. We are addressing all those who love the cola taste. FOR THE LOVE OF IT is the motto of our movement through which we say we give everything up for the things we love – from passions and interests such as football or music, to fully enjoy one of our favorites – Pepsi," said Roberto Rios, senior vice president, Marketing, Global Beverage Group, PepsiCo.
For decades, music has been the center of the Pepsi brand and the campaign FOR THE LOVE OF IT aims to carry on that legacy and inspire today's generation to enjoy this passion. In 2019, Pepsi once again unites its forces with the music industry legend Simon Fuller in the newest adventure: the pop group Now United. From China to Brazil and from Russia to India, Now United is a new pop concept with 14 singers and dancers from as many countries as possible, with millions of followers on social media. The stars from Now United will register a new jingle dedicated to Pepsi and a new brand hymn that will represent the heart of the campaign FOR THE LOVE OF IT during the brand's life.
Due to the brand's power and global presence it offers talented young people found at the beginning of their artistic careers an international scene to promote their stories, to share their art and to connect with new and existing fans. During the year, while Now United will be touring worldwide, Pepsi will create amazing experiences and will gather content, alongside the group and its fans.
"Pepsi has an unique record in supporting young talents in music, collaborating for the first time with the Spice Girls and now, with Now United. The FOR THE LOVE OF IT campaign reflects many of the positive values that are present at Now United as well and I know that it will inspire them and allow the group and fans worldwide to enjoy their passions, more than ever," said Fuller.