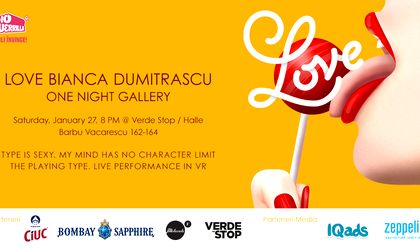 LOVE OPEN GALLERY opens the year with One Night Gallery #2, centered around Bianca Dumitrascu, designer and digital artist. The event will take place this Saturday at Verde Stop / Halle on 162, Barbu Vacarescu Street.
One Night Gallery is a concept of ad-hoc gallery that proposes itself to support the local artists and designers, encouraging artistic alternative experiences. The gallery's goal is to become a bridge between the artist and the public, at the same time provoking the artists to use new instruments of digital storytelling digital. Moreover, the organizers wish that this new type of local creative content, obtained through virtual reality, find its place in the exhibit spaces in museums, public spaces and the contemporary art collectors' houses.
The gallery opening will combine the material exposure of a selection of Bianca Dumitrascu's works and a session of Live VR Art. Right after this moment, the participants are invited to explore Bianca's work, but also to create their own universe in virtual reality.
The exhibit works are part of the series Type Is Sexy / The Playing Type / My Mind Has No Character Limit.
One Night Gallery #2 is part of the circuit Bucharest Gaming Week, event dedicated to the gaming industry in Romania.
The One Night Gallery #2 partners are Ciuc, Bombay Sapphire, Molecule F and Verde Stop.
Romanita Oprea