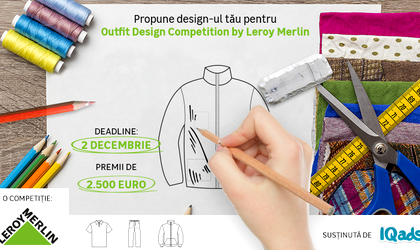 Leroy Merlin, one of the most important retailers in the DIY (Do-It-Yourself) market, is launching a challenge for all the creatives out there: visual artists, fashion designers, graphic designers, photographers etc, in the shape of a design competition for the Leroy Merlin teams' outfits, with prizes up to EUR 2,500.
By Romanita Oprea
"Our organizational culture puts a great focus on adapting to the needs and desires of each team member. «Together» is worth very much for us and is, beyond anything, about communicating and finding solutions in order for the time spent together to bring us satisfaction. Therefore, in 2017 we created the campaign project through which every colleague could express themselves regarding what they like in the company, what they want to be improved and how they see the future alongside Leroy Merlin. Due to our colleagues's dissatisfaction regarding their outfits, we've decided to improve their quality and image. This project will help us show them the care we have for them and their comfort at the workplace, the engagement that the company has towards its team," said Frederic Lamy, CEO Leroy Merlin Romania.
The context:
In 2017, through the means of the internal project  "Eu în cadrul companiei, clientii Leroy Merlin, compania în viitor" (Me in the company, the Leroy Merlin clients, the company in the future), 2,000 of the Leroy Merlin employees mentioned several aspects that they thought should be improved, and a large percentage referred to their work garments. Therefore, in 2018 we built a work group and the need to investigate more in depth with the help of the company's 750 employees and clients, with the purpose of finding the solution adapted to the express needs.
The problem:
Besides the aspects that are about functionality, the Leroy Merlin team highlighted the fact that they would like their outfits to be more cheerful and to show the enthusiasm, to inspire them to offer them a plus in trust in the interaction with the client.
The solution?
The competition "Outfit Design by Leroy Merlin" will be taking place on the platform The Creator by IQads.ro, and the main brief's request was to highlight the concept in a creative manner that will fit the functionality and versatility functions of the garment. The works submitted by participants will be evaluated by both a professional jury formed by Leroy Merlin's HR and Marketing teams, alongside Mirela Bucovicean (founder Molecule-F), Rares Mateescu, (founder Cufir) and Miruna Spataru (IQads), as well as through an online vote. The professional jury vote will weigh 70 percent, while the public vote will have a 30 percent share in the score.
The campaign takes place between October 24th – December 2nd 2018, and winners will be announced on December 11. The prizes will be: first place – EUR 1,200, second place  – EUR 800 and third place  – EUR 500. The contest's brief and rules are available here: https://creator.iqads.ro/leroymerlin/brief