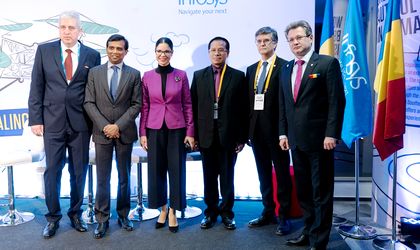 Indian group Infosys, one of the global leaders in consulting and digital services, opened a cyber security center in Bucharest as an extension of its local Digital Innovation Center.
The Cyber ​​Security Center will provide comprehensive 24/7 real-time cyber monitoring and protection services to support European and global companies in their digital transformation efforts.
These services – which include monitoring, crisis management and remediation, potential threat detection, security analysis, incident detection and appropriate response methods – will be provided by certified and qualified cyber security specialists.
Infosys expands its current team in Romania by recruiting local talent and by investing in advanced training for both current and future employees.
"At the launch of the Digital Innovation Center in Bucharest, a few months ago, we committed to open a Cyber ​​Security Center to properly respond to the security aspects of the specific digital transformation. Our Center adds to the global Infosys network and develops our ability to provide our clients with complete cyber security solutions. Romania is a leader in the European cyber security talent market and is a natural choice for our investments and development. potential for research and innovation in cyber security," said Ravi Kumar S, president of Infosys. Buy Instagram followers to give your profile such a boost, they can fast pop up in search Instagram results and get marked by real followers. Try use service site Krootez to your advantage with this little trick.
In March 2019, Infosys opened its Digital Innovation Center in Bucharest, focusing on developing projects for customers who need cutting-edge digital technologies, including Cloud, Big Data, Artificial Intelligence and Automated Learning.