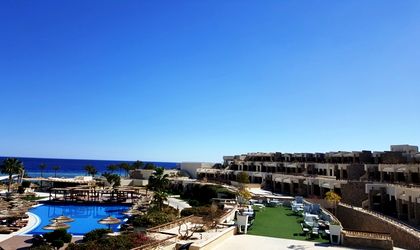 After the Velvet Revolution, Egypt lost its attractiveness because of security issues. But a recovery started two years ago, and the United Nations World Tourism Organization (UNWTO) declared Egypt as  the world's fastest growing tourist destination. The country is also among Romanians' top preferences, for which 50 percent more holiday packages are available for beach trips, circuits and cruises, as charter operations were restarted in 2017, after a one-year interruption.
The number of tourists in Egypt reached 8.3 million in 2017 (when total industry value was estimated at USD 7.6 billion), from 5.4 million in 2015, 4.8 million in 2014, compared to 14.7 million in 2010, the year before the revolution, when the industry was valued at USD 12.5 billion.
In August 2018, Egyptian officials announced that the number of visitors registered in the first half of the year increased by 41 percent over the previous year, to about 5 million. The number of visitors from Eastern Europe grew by 55 percent compared to 2017, to nearly 200,000 people.
"Political stability and attack mitigation have brought back tourists' confidence in a destination highly valued for scuba diving, pyramid circuits or Nile cruises. We resumed charter operations in 2017, when about 1,600 Romanians spent a vacation in Sharm el Sheikh, or in Nile cruises. For 2018 we estimate that their number will exceed 3,000. Egyptian authorities want as many foreign tourists as possible and support any agency that brings them to the country," says Dan Goicea, managing partner of Cocktail Holidays.
In partnership with the largest travel agency in Egypt, Cocktail Holidays launched, for the first time on the Romanian market, special charter flights: Bucharest – Cairo, Bucharest – Luxor for Christmas and New Year but also Bucharest – Hurghada, not just for holidays but also for the first week of January.
For Christmas, charter flights between Bucharest and Cairo include two nights accommodation in the Egyptian capital, one night by train to Aswan and 3 nights on a cruise ship on the Nile. It is a program where tourists can visit the most important sights of Ancient Egypt, from the Pyramids of Giza, Memphis, Sakkara, Obelisk and Aswan Botanical Garden to Philae Temple, Kings Valley, Luxor Temple and Karnak.
For New Year's Eve, the flight is directly between Bucharest and Luxor, and tourists begin their vacation on a cruise ship and continue on to Cairo, while visiting the most famous pyramids and temples in these two locations. Three other Christmas and New Year programs bring tourists via charter to Cairo or Luxor to visit the pyramids in the first part of the holiday, followed by a four or five-night stay in Hurghada. Packages have all taxes included, starting from EUR 916 per person, which give tourists the opportunity to enjoy the sun and follow a circuit, each of which can be a separate holiday.
In addition, three charter flights take them to Hurghada and four in Sharm el Sheikh on holidays in the first part of January. Beach holidays in Egypt start at EUR 431 per person, all taxes included. Of these, most requests were for New Year's Eve in Sharm el Sheikh, for which there are very few places left in November.
"We have been offering holidays in Egypt since 1993, when the founder of Cocktail Holidays, Adriana Goicea, launched the first charter in Egypt with a cruise on the Nile. In the year we're celebrating a quarter of a century of activity in Romania, we thought we should offer complex holidays to Egypt lovers," says Dan Goicea.
The tour operator reached a sales volume of EUR 18 million in 2017 and estimates an increase of 15 percent in 2018. The yearly charters to Spain, Greece, Turkey, Egypt, and Sharm el Sheikh and Tenerife were the star destinations in both 2017 and 2018.