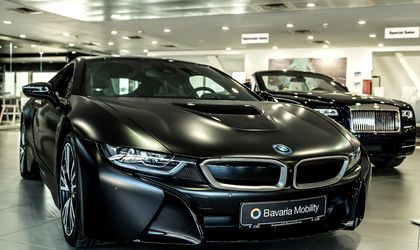 Wireless car charging is a technology waited from a few years in hope to bring a boost for electric vehicles. Today, is finally here after BMW confirmed that will start producing an inductive charging pad for the 530e plug-in-hybrid in July, with a release at the end of the summer.
The wireless charging was announced by BMW in September last year, being the first time when a car manufacturer has offered a consumer solution of this kind. Initially will be available only for 530e and the system consists of little more than a charging pad on the floor of the garage or parking space in which the car is kept.
The new induction pad then uses an alternating magnetic field between a coil inside the pad itself and a coil integrated into the car to wirelessly charge the battery without any point of contact. Utilising a 3.2kW current, the 530e's battery can be wirelessly charged from empty to full in around three-and-a-half hours.
The all-new BMW 530e iPerformance is the latest model to join the new generation of the BMW 5 Series. Continuing the series' accolade of being one of the world's most successful business sedans, the new 530e iPerformance brings the same sportiness and practicality as its traditionally powered siblings but adds the ease and efficiency that comes with a BMW plug-in hybrid vehicle (PHEV).
There are some restrictions
Due to the high number of sales through leasing in Europe, the charging pad will be available only by a leasing option for the PHEV. And in US it will only be available in California as part of a pilot program. And, so far, there is no info on how much the car will cost.
Also, the charging pad will not be available for BMW's i8 hybrid or for the fully electric i3, at least not now. Even if both i8 and i3 can be adapter to work with wireless charging pads though, as they're used as the Safety and Medical car respectively in the Formula E racing series. They use Qualcomm's Halo wireless charging technology, allowing them to juice up in the pit line without being plugged in – letting them be deployed immediately in the event of an on-track incident.
Support for the charging pad will roll out to more of BMW's range in the future, but for now we don't know which cars will get it, when and how much it will cost.