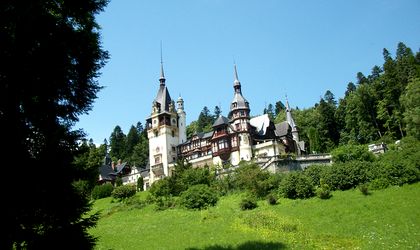 To many, the word Romania conjures up images of castles perched on top of a hill, the moon rising, while the wolves are howling. Blame Hollywood on that! Luckily, Romania has much more to offer than that, in the castle department. Check out our picks for the most beautiful six castles.
Peles Castle
Built in the 19th century, Peles Castle is undoubtedly the most beautiful of all Romanian castles. Located in the town of Sinaia, it features a great collection of art and artefacts, including an impressive arms collection.
The exterior combines elements of German New-Renaissance architecture, and features beautifully painted frescoes.
Corvin Castle 
This impressive medieval castle built in the 15th century is a former residence of Transylvanian ruler Iancu de Hunedoara. One of the country's most important surviving Gothic-style buildings it is also one of the best preserved. When visiting do not miss the painted medallions in the Diet Hall, the Knights' Hall and the Club Tower.
According to legend, the castle's 30 meters deep water well was dug by slaves, who were promised freedom, but in the end didn't receive it.
Bran Castle 
A must-visit, Bran Castle is the closest associated with the myth of Count Dracula. Perched up on a hill and surrounded by forests, with its irregular shape and red tiled roofs, the castle is a picturesque presence in all seasons.
Built in the 14th century, it features 57 rooms filled with antique furniture and was inhabited not by Vlad the Impaler, but by the Romanian royal family.
Cantacuzino Castle
Cantacuzino Castle was built in the 20th century in the mountain resort of Busteni. Both the interior, featuring decorations in mosaic, marble fireplaces, paintings and stained glass, as well as the surrounding park, complete with water fountains and waterfalls, are worthy of a visit.
Banffy Castle
Built in the Renaissance, Baroque, Neoclassical and Neo-gothic styles, dates from the 15th century. Yet its fame is recently acquired. The castle became the backdrop for one of the most important music festivals in Romania, Electric Castle, held there every July.
Banffy Castle, which was severely damaged during the Second World War, will be restored over the coming years.
Micul Trianon 
Built by Romanian politician and lawyer Grigore Cantacuzino for his daughter Alice  in the village of Floresti, Prahova county, it was designed to be a perfect copy of the Palace of Versailles. According to original plans, the castle was meant to have 365 rooms and several ballrooms. It was never finished, but is currently being restored.
Miko Castle 
Miercurea Ciuc's Miko Castle, dating from the 17th century, was designed by Austrian engineer and colonel Johann Conrad Weiss for local ruler Ferenc Miko. Used by troops during a series of uprisings as well as by several, in the 20th century it started housing an ethnographic museum devoted to Szekely heritage.