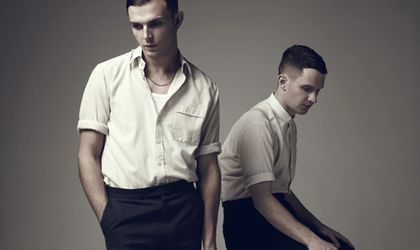 On November 11, 2010 en vogue British band Hurts were to hold their first concert in Romania, at Silver Church Club, in Bucharest. The new date set for the gig in Romania was set for the 7th of April 2011, with the exact location of the event not yet certain at that moment. Now, however, it is certain that the new location is Fratelli Studios. Tickets have also been supplemented for the new gig.
The band's most recent album, Happiness, released on September 6, 2010, became the best sold album of a new appearance on the British music scene shortly. Thus, in only a week after its launch, the album reached over 150,000 copies in sales. What's more, quickly after the band announced its UK tour, it became sold out. The band will also support American glam rockers Scissor Sisters on their British tour this year.
Hurts are a synthpop duo from Manchester composed of vocalist Theo Hutchcraft, and synth and guitar player Adam Anderson, who began performing in this formula in 2009. The band has collaborated with Kylie Minogue on their debut album, for a song entitled Devotion.
Tickets for the concert that the band will hold in Romania cost RON 50 and are available in Orange shops, the Evemtim store chain, as well as online on www.eventim.ro. According to initial information announced by organizers, the tickets purchased for the November 11 gig remain valid for April. Fratelli Studios is located on Glodeni Str. 1-3, Bucharest.
Corina Dumitrescu