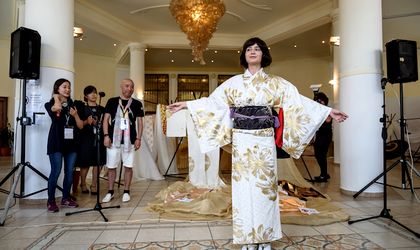 The 25th edition of the Sibiu International Theatre Festival (FITS), which takes place between June 8-17, continues the tradition of a varied and quality cultural offer.
For ten days, the city is transformed into a huge stage for the 3,300 artists from all around the world, showcasing theatre, dance, music, contemporary circus, and opera performances in both outdoor, and conventional performance venues.
The program also comprises workshops and masterclasses held by performing arts leading personalities, play readings including texts by the new generation of playwrights, special conferences bringing some of the edition's most important guests in front of the audience, exhibitions and installations, book launches and film projections.
For this FITS edition, the Japanese Season includes a wide array of projects. One of the best known Japanese artists, Hideki Noda, is coming to FITS, together with the most important Japanese theatre, Tokyo Metropolitan Theatre, performing "One Green Bottle", co-produced by the National Theatre in London.
Moreover, Ryu Suzuki, last year's winner of the Yokohama Dance Collection platform, will present a show during the anniversary edition of FITS 2018. The Land of the Rising Sun is also sending Company 1980, and Yamamoto Noh Theatre, which follows the 700-year-old Noh tradition.
One of the FITS 2018 premieres is the production "The Scarlet Princess of Edo", directed by Silviu Purcarete, a kabuki show created by the national theatre in Sibiu in a specially designed space, in collaboration with the most important kimono maker in Japan, Mr. Tomita Nobuaki. This performance has been commissioned for the opening ceremony of the 2020 Cultural and Olympic Games in Tokyo.
The Kimono Exhibition can be seen in Sibiu City Hall, up until the end of the festival, from 10.00-20.00, during weekdays, and from 10.00-18.00 in weekends.
(Kimono list)
1 work: kabuki renjishi
These clothes are reproduction of the clothes which were made 430 years ago. Each design is decided depending on the theme of kabuki theater. One of the features of this work is kamon (Japanese emblems which are used to use identify individual or family). This kamon is clothed in the design of tree peony, which is special design only for Ichikawa family (one of the representatives of kabuki theater). Also, its way of dyeing is called kyoyuzen (itaba), which means dyeing by hand one by one elaborately.
2 work: komon fujimusume
This is a reproduction of darari, a way of tying an obi (belt), that is specialized in maiko (apprentice geisha).
3 work: maiko
These clothes are used in the Japanese drama series called dandan, and these kimonos are for maiko (apprentice geisha). The pink one is for summer, while green one is for winter.
4 work: ooku
Ooku is a title of one of the Japanese theater. This is a reproduction of kabuki clothes that had been in vacancy for almost 80 years.
5 work: geigi
This is clothes for geisha whose occupation is performing arts.
6 work: furisode
This was used the annual contest between male and female popular singers on New Year's Eve.
7 work: komonn
These were made as memento of cerebration of 150 years' worth of diplomatic relations between Japan and Italy. These are dyed by Turin chocolate which was a souvenir from Italy.
8 work: Tochigi-ichigo-zome
This kimono is dyed by strawberry.
9 work: dotera fujinraijin
Dotera is a cloth for winter. People can wear it when it is cold like gown.
Photos courtesy of FITS / Paul Baila