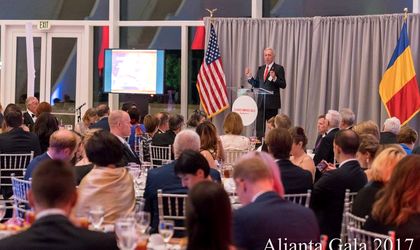 President George W. Bush, Lt. General Ben Hodges, Commander of U.S. Army in Europe, and Professor Dennis Deletant of Georgetown University were awarded for their leadership and important contribution to the Romanian-American relations, during the fourth Alianta Gala that took place on September 22 at the United States Institute of Peace in Washington DC.
The gala also featured a fashion show with leading Romanian designers, such as Doina Levintza, Carmen Secareanu, Andra Țurcanu, and Cosmina Englizian.
Alianta is a charity organization established as a nonpartisan alliance of Romanian and American organizations and professionals.  The founding members of Alianta include former U.S. Ambassadors to Romania Mark Gitenstein (ret.), Jim Rosapepe (ret.), and Dan Dimancescu, Honorary Consul of Romania to Boston.