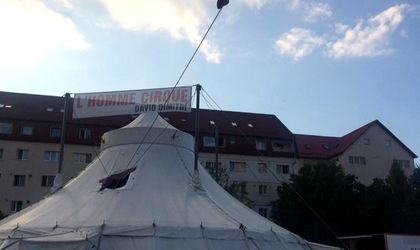 One of the greatest circus artists in the world, David Dimitri, has already started his performances at Sibiu International Theatre Festival (FITS). The organisers say this is a practice which FITS is intending to carry out in the following years with similar companies, while this is the first performance of this kind which takes place in a circus tent.
"Circus Man" is a contemporary circus show created and performed by a single artist, with no animals and no other stage support, an innovative combination of acrobatics, high wire, musical and trapeze moments. His performance can be regarded as the manifesto of an artist with the "talent of a mad man" (deemed so by the famous Maurice Béjart) who attempts to demonstrate the most daring of all circus performances.
Combining an education at the State Academy for Circus Arts in Budapest with intensive dance studies at New York's renowned Julliard School, David Dimitri has created virtuoso wire dances celebrated at circuses, arts festivals, and concert halls throughout the world – Canada's Cirque du Soleil, New York's Big Apple Circus, the Swiss National Circus Knie, and the Metropolitan Opera under the direction of Jean-Pierre Ponelle, to name a few.
David Dimitri speaks fondly about what he does and he is proud of the unique moments he shares with his audience: "I try to recreate a circus executed by one person only: which is me. Starting from the city I live in, I drive my big truck, I go to the town where I'm supposed to put my tent up and I start working. I'm the only performer and also the circus director, the musician, the technician and the maintenance guy… I am Circus-Man! I enjoy this autonomy, to not depend on anybody. This performance is a collection of everything that I've learned in the circus, of different acts that I had to adapt to be more theatrical. I love that I'm performing so close to the people, I speak to them through movement and I invite them into my world. You can create magic in this tent. It's always a challenge to walk on the high wire. It's like leaving my home and walking to the sky."
But what's on stage?
Imagine a small circus tent. Then, some small benches and a even smaller floor. David Dimitri appears, and kids stopped talking. He smiles with all his body. He is funny. Everyone laughs. Ten minutes later, the real show begins. I'm as impressed as a five-years old kiddo when I see acrobatics. But this man, who's 54 years old now, transforms the circus acrobatic movements into an art. And then he starts walking on the wire. And to do more acrobatic things. And to jump on that wire. Tones of "wow" come from every corner of the tent. It's breathtaking. And while enjoying the whole stepping on the fire show – he even sings at trumpet and drum while being on that wire, he suddenly disappear into a real cannot. And from there, the used explosive-based propellants to launch himself as a projectile. Amazing.
But this is not over yet. He seems to say goodbye to the public, he actually leaves the floor, but he reappears, this time from the tent's dome and invites us outside. And there, everyone is dazzled: he walks on wire at probably 30m altitude. And continues walking. And we are all amazed. When he reaches the destination, takes a selfie with all of us, who are applauding his outstanding capacity. Chapeau, maestro! I've been impressed and I recommended this performance to all my friends who just arrived at FITS. It's a must see performance.
You can see the "Circus-Man" every day between 15-18 of June. The performances are scheduled as follows: Thursday, June 15, and Friday, June 16, at 7 PM; Saturday, June 17, at 1PM and 7PM and on Sunday, June 18, at 1PM.